Ahead of Adobe's October 2020 Max conference, it has released the sneak peek of it's new AI Sensi Powered Sky Replacement Preset for Photoshop.
What Photoshop Sky Replacement Tool Preset Can Do?
The new sky replacement Preset in Photoshop which will be added soon to Photoshop, makes it easier to replace the sky in any image. You can easily change the sky with just one click and not only this, it automatically creates the mask for you. So that you don't have to spend hours creating complex masks.
Besides this new AI-powered Sky replacement Preset in Photoshop also capable of differentiating between the foreground and the background thus it automatically matches foreground with the sky colour.
Read also:- Photoshop 2020 New Features
For example, if you add the warm sky of sunset it automatically adjusts the tone of the foreground image to match with that of the sky. This is just an amazing feature as you don't have to do this manually. Because earlier when we used to change the sky sometimes it does not match with the overall image.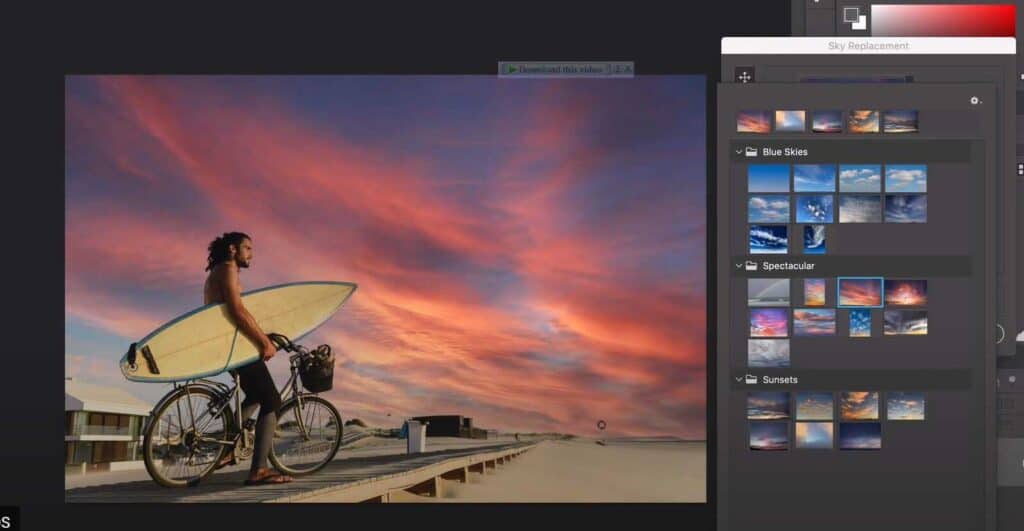 In that case, you need to use the colour adjustments to match the foreground area of the image to match the sky so that it does not look fake.
The good thing about this new sky replacement tool in Photoshop that the entire editing is non-destructive as it creates multiple layers of masks, adjustment layers etc. So, that you can easily customize it anytime you want.
The AI Sense technology used in the new sky replacement tool preset allows you to scale up or scale down the sky image as per your choice. This also allows you to even adjust it position using the move tool so that you can choose the exact point of the sky image you want for your scene.
The sky replacement tool option comes with some pre-loaded sky presets and you can also use your own sky image if you want. This tool also allows you to organise your sky presets with folders and recently used sky presets.
Is Adobe Photoshop Sky Replacement Tool Preset New to Photo Editing?
Though this sky replacement option is not a new invention as the same has already been introduced by the Luminar photo editing software which is AI-based.
The one-click sky replacement was released by Luminar around 1 year ago. This also allows you to replace the sky with just one click and it works pretty well.
Though at this moment I cannot say wether it would work perfectly for any type of images. It can be said only when this preset tool option would be finally released and added to the Photoshop.
Read also:- Photoshop 2020 Direct Download
I think that this tool will work somewhat ok with most of the images but for the complex images which have lots of trees or leaves then it may not work as good, since we know that the one-click subject selection tool of the Photoshop does not work that well despite the fact it is also powered by AI.
Though I think Auto matching color feature might work well for the sky replacement tool in Photoshop but as far as creating masks for complex subjects, it may not work that well and you have to manually adjust the mask.
The Adobe in its' sneak peek video has shown that it is working well with almost all images but it cannot rely on since these examples are chosen for the demo of this features and it is most likely that Adobe has selected only those images which work fine.
Final thoughts about Adobe Photoshop Sky Replacement Tool Preset
So, I can say that it is good that Adobe is trying to add machine learning to the worlds most powerful Photo editng software Photoshop. The new sky replacement preset tool would certainly be helpful especially for the landscape and architecture Photographers as this going to save them lot of time and efforts.
Let's wait and watch when this new option would be added to the Adobe Photoshop as Adobe has not said anything when this would be added to the Photoshop but they have given the hint that it would be this year's release.
I am excited to check this feature out! What do you feel?
Share your thought in the comments below!
Don't forget to share!