GoPro Hero 8 Black Review-Full Detailed Review-The Ultimate Guide
GoPro Hero 8 Black has finally launched officially. The initial look and features of it are just amazing and it is a slight improvement to its successor GoPro Hero 7 Black. This time it has not been launched in Silver and White Models. GoPro has also launched GoPro Max which is its 360 Degree Capture Flagship model along with some Mods.
In this post, we will do a detailed review of the GoPro Hero 8 Black Action camera.
What is new on GoPro 8 Black?
GoPro HERO8 specs
Camera: 12MP, SuperPhoto + HDR,
Video: 4K at 60 FPS, 1080p at 240 FPS,
1080p live streaming,
8x Slo-Motion,
TimeWarp 2.0,
HyperSmooth 2.0 + Boost
Waterproof up to 10 meters
Price: $599.95
What are the specs of new on GoPro Max?
GoPro MAX Specs
Camera: 16.6MP, Spherical + HERO Capture,
PowerPano
Video: 5.6K at 30 FPS,
1080p live streaming,
2x Slo-Motion,
Max TimeWarp,
Max HyperSmooth,
Spherical Audio
Waterproof up to 5 metres
Price: $799.95
GoPro Hero 8 Black Release Date?
GoPro Hero 8 Black would be available for buying from October 20th 2019
GoPro Max Release Date?
GoPro Max would be available in stores from October 24th 2019.
What is the Price of GoPro Hero8 Black?
The Price of GoPro Hero 8 Black would be $ 599.95 in US Dolor.
The price of GoPro Hero 8 Black would be around Rs. 36,500/- in Indian Rupees.
What is the Price of GoPro Max?
The price of GoPro Max is $799.95 in US Dollars.
The Price of GoPro Max is around Rs. 47,000/- in Indian Rupees.
Let's talk about GoPro Hero 8 Black Features in Details
SLIGHTLY MORE COMPACT BODY
It has new frameless Design which is a slight improvement from GoPro Hero 7 Black, though it is not that noticeable.
BATTERY ON THE SIDE
The battery is now located on the side instead of bottom to give way to a new feature of mounting fingers. The battery is of same size and capacity.
IN-BUILT MOUNTING FINGERS
New GoPro Hero 8 has in-Built Mounting Fingers so you can directly attach it to any accessories without the need of the plastic mounting case.
HYPERSMOOTH 2.0
This is the new upgraded technology in Hero 8 over the HyperSmooth 1.0 and it gives you even smoother footage with a Boot Feature. The HyperSmooth Feature of the GoPro 7 has revolutionized the way action camera shoots the video footages.
Earlier you need to rely on costly Camera Gimbles but with HyperSmooth Technology it has made Gimbles useless. And with HyperSmooth 2.0 which has the option of Boosting Stabilization, you can get stunningly smooth footage in any environment whether you are running or doing extreme sports activity.
SHOOTING PRESETS FOR VARIOUS TYPES OF ACTIVITY 
Earlier people used to confuse especially those who are beginners about the settings in which to shoot. But now GoPro Hero 8 has introduced some presets like Cinematic-Activity etc.
Now you can just select the best setting according to your need with just one tap and you are good to go.  You can also create your own up to 10 customize presets to suit your own need.
HORIZON LEVELLING FOR A CINEMATIC EFFECT
If you have somehow tilted the angle and your Horizon line is not aligned properly in videos then it has an automatic Horizon levelling option to get that Cinematic Effect easily.
TIMEWARP 2.0
GoPro Hero 8 Black has introduced the TimeWarp 2.0 technology which automatically decides the length of the Hyperlapse video depending on the speed. It also allows you to choose a variable speed and slow down the footage with just one tap on the display screen.
WATERPROOF CAMERA UP TO 10M
With GoPro 8 camera is waterproof and you can shoot videos to 10m. It has the option to shoot 4K video at 60fps and slow-motion video at 240fps with the resolution of 1080p.
LIVE STREAMING AT 1080P
With the previous model GoPro 7 Black, you can live stream for YouTube or other Platforms with a resolution of 720p which was a let down as these days 1080P is the preferred live-streaming resolution. So, GoPro heard it and with GoPro 8 Black has introduced the live Streaming with 1080P which is a great new upgrade if you are a streamer.
VOICE CONTROL
Now GoPro has the voice command features which means you can say "GoPro Start Recording" and it will start recording.
FOR VLOGGERS
Earlier the GoPro was targeting Action Sports only but with GoPro 7 they tried to capture the market of Vloggers by introducing HyperSmooth Technology. With GoPro Hero 8 Black they have gone even further to capture and lure the vlogger all around the world by introducing some Mods for the camera.
Earlier the microphone of the GoPro was a big let down for vlogger and besides that, there was no 3.5mm jack to attach third party microphone like Rode video Mic. Vloggers have to rely on converter cable which was very costly. So now they have introduced Mod System which boasts of Front facing directional Mic with a 3.5 mm jack, HDMI output and two cold Shoes. The cost of this Mode would be $ 79.9.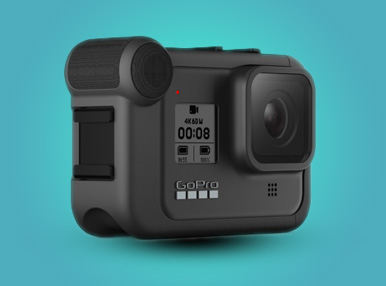 There is also a Display Mod which allows adding Front-facing Color LCD Screen which is very useful for vloggers as you can properly frame the scene and check how you look. This Display Mod costs $79.99.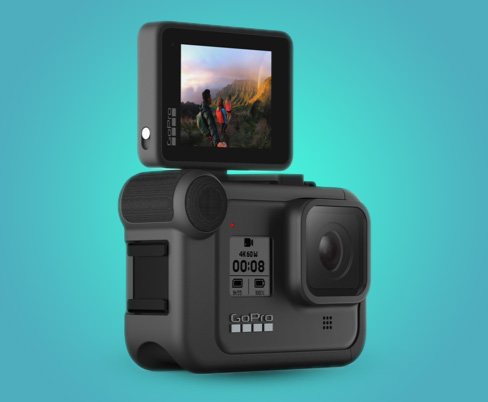 The next Mod is the Light Mod, which costs $49.99 which adds battery-powered LED Light and it can be attached to the shoe mount of Media Mod. This helps to light up your face while vlogging.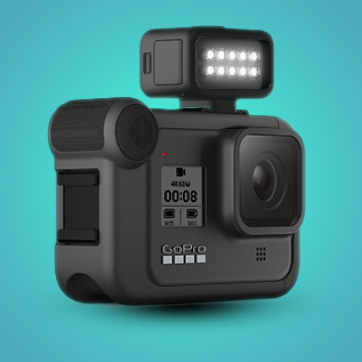 When Mods would be available?
There are no confirmed details as of now but these would be available from December 2019.
ABILITY TO RECORD VERTICAL VIDEOS
­­­GoPro 8 also has the feature of recording videos at 9:16 ration for IGTV, TikTok or Instagram Stories. GoPro is trying to capture all the markets with this new feature to record vertical videos. It also has a lock feature so that you can lock the aspect ratio of the video and don't change the aspect when you tilt your camera.
GOPRO FUSION IS NOW GOPRO MAX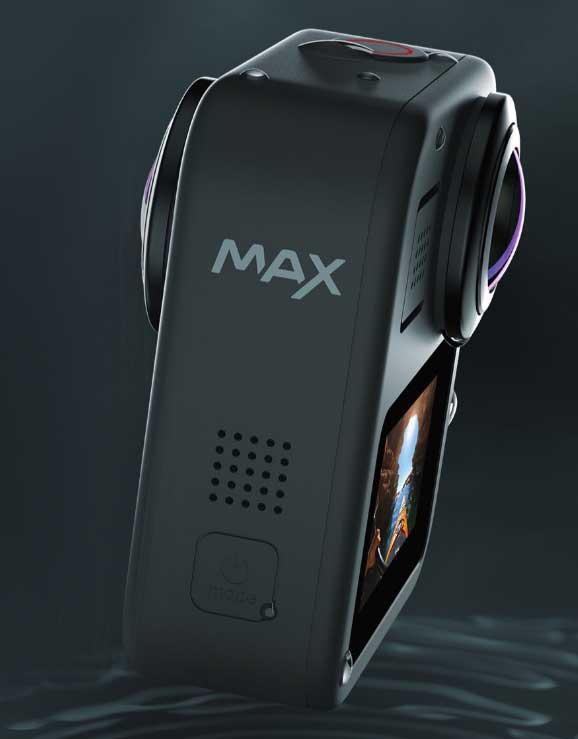 The earlier version of GoPro 360 Camera is now called GoPro Max with the little bit modification. It is smaller in size and also allows to use it as regular video or 360-Degree videos/images.
This is also waterproof but only up to 5m and it can also live Stream at 1080P. Max has in-built GPS and it can shoot up to 5.6 K 360-degree video at 30FPS. This also has a colour display on the side for framing shots. Besides this, it has all the features of GoPro hero 8 Black like HyperSmooth and TimeWarp.
Read Also:- Nikkor 85mm 1.8G Unboxing and First Impression
WHAT'S THE CON OF GOPRO 8?
Bad Battery Life
Unfortunately, the GoPro 8 has not made any improvements to the battery life and it is of the same size and capacity. You can interchange Hero 7 battery AABAT-001 with this or Hero 8 battery with Hero7. You can even use third party batteries without any problem.
GoPro should have paid more attention to the battery as this is one thing which is a let down in almost every GoPro model. The normal battery life of the GoPro is 45-90 minutes and it depends on the shooting mode.
Costly Accessories
This is another great let down as the GoPro accessories are also very costly and the Mods System which would be launched in December is also very costly.
GoPro HERO 8 BLACK VS HERO 7 BLACK
GoPro Hero 8 is definitely is an improvement and successor to the Hero 7 with some improvements to cool new features and design.
But most of the features are the same. Check the below image for full details of GoPro Hero 7 Vs GoPro Hero 8 Black
| | | |
| --- | --- | --- |
|   | GoPro Hero 7 Black | GoPro Hero 8 Black |
| Video | 4K/60p | 4K/60p |
| Max video bitrate | 78Mbps | 100Mbps |
| Stabilization | HyperSmooth | HyperSmooth 2.0 |
| Fields of View | Super view, Wide, Linear | SuperView, Wide, Linear, Narrow |
| Shooting modes | TimeWarp, Time Lapse, | TimeWarp 2.0, Time Lapse, Night Lapse |
| Slo-mo | 8x | 8x |
| Livestreaming | 720p | 1080p |
| GPS | Yes | Yes |
| Protune | Yes | Yes |
| Processor | GP1 Chip | GP1 Chip |
| Audio | 3-Mic processing | 3-Mic processing |
| Photos | 12MP SuperPhoto+HDR | 12Mp SuperPhoto (improved HDR) |
| LiveBurst photos | No | Yes |
| Dimensions | 66.3×44.9x33mm | 66.3×48.6×28.4mm |
| Mounting weight | 142g | 126g (no frame needed) |
| Connectivity | USB-C, HDMI | USB-C, HDMI (only with Media Mod) |
| Connectivity (wireless) | Wi-Fi, Bluetooth | Wi-Fi, Bluetooth |
| GoPro Mods compatible | No | Yes |
| Battery | Removable 1,220mAh rechargeable | Removable 1,220mAh rechargeable |
| Price in USD | $ 328 | $ 599.95 |
| | |   |
| Price in INR | Rs. 27,450/- | Rs. 36500/- |
Read Also:- Nikon Z7 and Z6 Full-Frame Mirrorless Camera Review
If you want to Compare GoPro 7 VS GoPro 8 and GoPro Max Click here.
Conclusion Should You Buy GoPro Hero 8 Black?
Definitely yes, if you want to buy your first Action camera then go for the latest model but if you are on budget you can go for GoPro 7 Black as it has almost same features with less price and prices are expected to go even low.
But if you already have GoPro 7 Black then you don't need to upgrade but if you are someone who prefers to have the latest model then you can opt for GoPro Hero 8 Black.
Check out Video Review of GoPro Hero 8 Black 
You can pre-order GoPro 8 from GoPro official website and you will get free 32GB SD card of SanDisk.  Click here to Pre-Order.
What is your thought? Comment Below!
Consider sharing it!
Thank you for Reading!
Consider sharing it! Sharing is Caring!